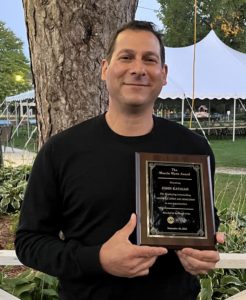 Wynner parent John Kayaian received the Marcia Wynn Award at our Parent/Board Gathering held on Sept. 28, 2023. The Marcia Wynn Award honors parents who have been consistent supporters of the Justin Wynn Fund.
John has been a dedicated supporter of the Justin Wynn Fund since his son Theo received the Justin Wynn Award. He has served on the JWF Board of Directors since 2017, including as Vice President for four years. John has been instrumental in planning the Red Tie Soirée each year, and has planned and hosted our annual Parent Mixers.
Wynner Theo Kayaian presented his father with the 2023 Marcia Wynn Award on behalf of the Justin Wynn Board of Directors. Congratulations John!